Hockey
New Membership Payment System
A number of members have been asking about an email that they have received from Instonians < This e-mail address is being protected from spambots. You need JavaScript enabled to view it > regarding an invite for them to join a particular Instonians membership catagory. If you recall in your annual membership letter sent out by David Rainey in July, the club is transitioning from a BACS payment system to a more modern electronic payment system. This invite is just asking for you to click on a link in order to confirm your details on the gocardless payments platform. IT IS SAFE TO DO SO. Can you please do this at your earliest convenience.
If you are a member and you have not received your email, can you please check your junk mail folders as we have heard reports of some email clients rejecting the emails as junk. It would also then be prudent for you to add the email address above or better still gocardless.com domain to your safe senders list.
Should you have any problems please contact the membership secretary Sharon Crossan.
60th Anniversary Celebration
If you wish to attend payment is required, in advance ASAP, by one of the following methods:
1) Cheque made payable to "Instonians" for £35 per person. Send to:
Haydn Taylor,
20 Knockbreda Park,
Belfast BT6 0HB.
Please put all names covered by the cheque on reverse.
2) BACS transfer with the reference "60th YOUR NAME" for £35 per head.
Sort Code: 98-00-60
Account Number: 42275149
Please send an email confirming name(s) and importantly the reference used to This e-mail address is being protected from spambots. You need JavaScript enabled to view it
IHA Concussion Guidelines
IHA have a concussion policy / guidelines available on their website. This can be found on www.hockey.ie under the IHA tab and Concussion Policy. But for a quick link please click here.
Links to other facebook pages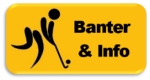 << Start < Prev 1 2 3

4

Next

>

End

>>


Page 4 of 4