Hockey
Girls Hockey Blitz - 22/10/2017
The Seahorses u-11 girls went unbeaten on Sunday 22/10/2017 at the Harlequins blitz. They drew with Banbridge and Lisnagarvey fighting back from 2 goals down to earn a thrilling draw. They knocked 3 past Civil Service and in all their games played some fine attacking hockey. The passing has improved markedly and if the girls could shoot with just a little more composure they'd have rattled in several more goals, which their exciting right wing attacks deserved. Well done to all the girls, their parents and coaches who have brought them to a higher level this season.
IHA Concussion Guidelines
IHA have a concussion policy / guidelines available on their website. This can be found on www.hockey.ie under the IHA tab and Concussion Policy. But for a quick link please click here.
Links to other facebook pages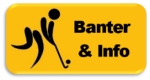 Mouthguards - a message to players
Message to Players:
Mouthguards
It has come to our attention that a significant number of players across all levels of the Club are choosing not to wear a mouthguard during both training and matches.
Whilst accidents might be rare, the risks are significant. One of our senior players is currently still undergoing complicated and expensive dental treatment a year after his accident.
As with all clubs affiliated with Ulster and Irish Hockey, players are 100% personally liable for any dental injury or damage or loss to teeth.
The Club Committee strongly advise players who do not currently wear a mouthguard to have one fitted at their dentist to avoid the risk of having to undergo many months of treatment at great personal cost.
1st XI Fixtures / Results
<< Start < Prev 1 2 3 4

5

Next

>

End

>>


Page 5 of 5