Hockey
IHA Concussion Guidelines
IHA have a concussion policy / guidelines available on their website. This can be found on www.hockey.ie under the IHA tab and Concussion Policy. But for a quick link please click here.
Links to other facebook pages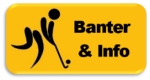 Mouthguards - a message to players
Message to Players:
Mouthguards
It has come to our attention that a significant number of players across all levels of the Club are choosing not to wear a mouthguard during both training and matches.
Whilst accidents might be rare, the risks are significant. One of our senior players is currently still undergoing complicated and expensive dental treatment a year after his accident.
As with all clubs affiliated with Ulster and Irish Hockey, players are 100% personally liable for any dental injury or damage or loss to teeth.
The Club Committee strongly advise players who do not currently wear a mouthguard to have one fitted at their dentist to avoid the risk of having to undergo many months of treatment at great personal cost.
On Saturday 3rd Ocotober 2009 Instonians Mens Hockey Club Celebrated their 50th Anniversary with a dinner in the school Dining Hall. The meal was attended by over 150 players, ex-players, supporters and parents of all ages from founder members to the new crop of schoolboy players that Instonians need to survive as a top flight club.
Read more...
Instonians v Ireland Challenge Match
On Sunday 27th September 2009, Instonians challenged Ireland to a game of hockey to celebrate the clubs foundation 50th years previously. On the day a large crowd turned out to watch 2 teams battle out an exciting 0-0 draw. Instonians held their own against an almost full strength squad, and indeed in the latter stages looked as if they could sneak a winner which says volumes for the dedication and commitment that our senior players give to the club.
Read more...
<< Start < Prev 11

12

13 Next > End >>


Page 12 of 13